There has been three years since the last time I've posted on my blog.
This is not an incident. The two last years have have been particularly difficult for me. Family issues as well as work difficulties. I feel like two years have passed but too little happened. I never had that much stress at work, despite not really being overworked. Something was not right, I felt out of place. I understood a few months ago that my current position was not helping my overall goals and I was lacking motivation. I decided to leave and go back to my last known good backup: the company I created in 2014, Badcode SPRL, with which I started doing freelance security services. My motivation returned back and for once since a long time, I have hopes and expectations about my future.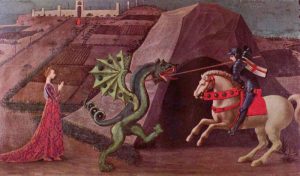 This morning, I was discussing with a friend facing career choice. I told them the parable of the knight, the princess and the dragons, while understanding mid-sentence that I was explaining my own story.
We all are knights of our own story book. The knight has a goal in his journey: he wants to rescue the princess who's been made prisoner in a villain's castle. The thing is, the path is full of dragons. Dragons may be fun or tedious to kill. They distract the knight from his quest. His goal is to save the princess, that's the important thing. The dragons are there, and must be avoided or killed. They're the bills, the assignments, the difficult clients, the toxic coworker, etc. They must be taken care of, of course, they are urgent. Nonetheless, killing dragons won't help your quest if you aren't moving in the right direction. Nobody saved their princess by killing dragons.
Today I realized I was more busy trying to slay dragons than pursuing the princess. I was in survival mode, part of someone else's project that I didn't consider mine. After the career choice I made two months ago and with my new hobby (astrophotography), I finally see the princess and my motivation is back. The dragons are worth fighting for her.
And by the way, I'm available for freelance contracting. Secure development, cryptography, penetration testing, code and architecture review, or any other crazy thing hackers can do.